Public-Private Synergy in the Space Sector: Risks and Rewards
Event details
Date & Time
June 29, 2023
10:00am - 1:30pm
Eastern Time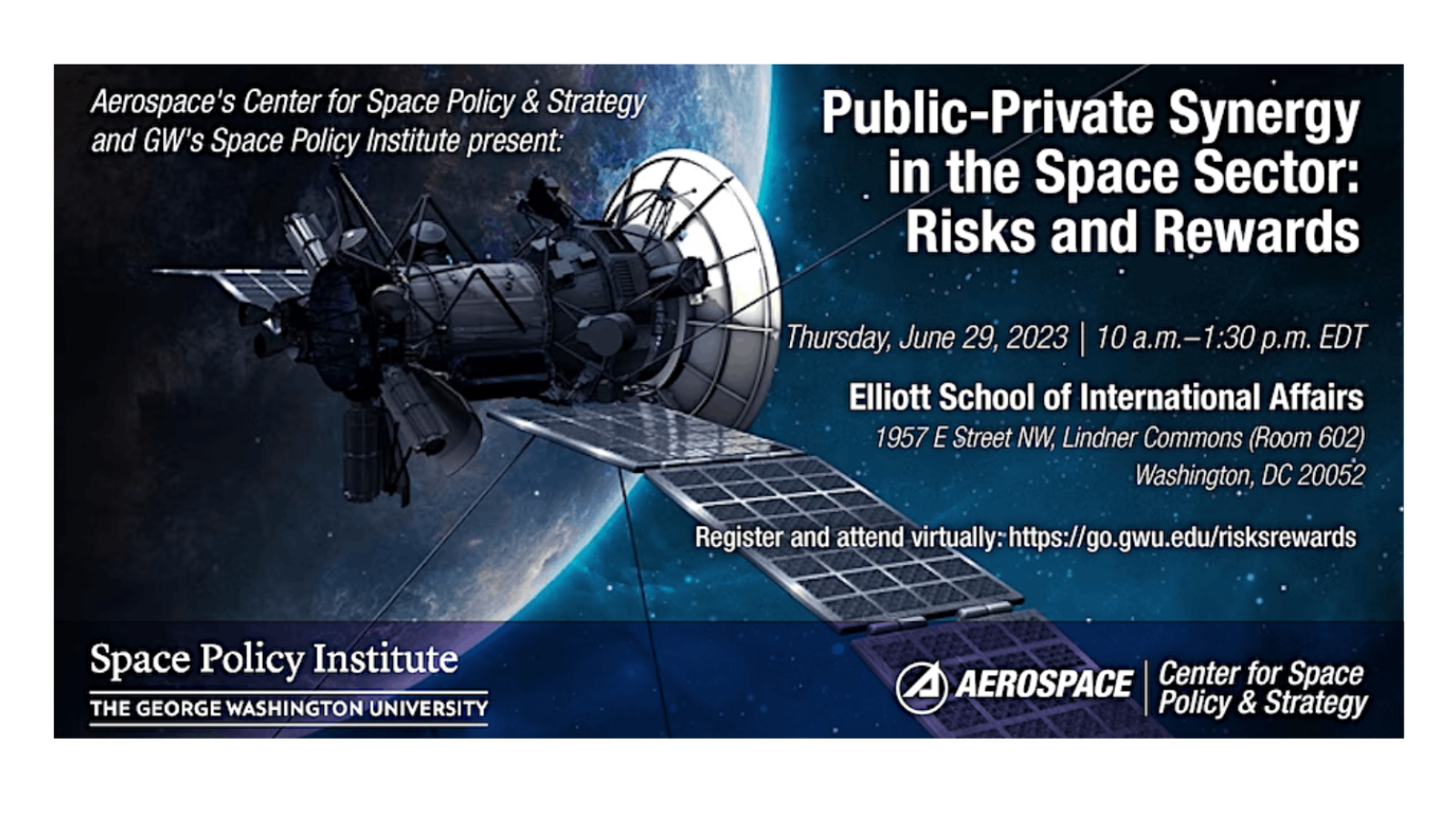 Event details
Public-private collaboration in the space sector is a balancing act. Where can government organizations achieve greater innovation, efficiencies, and reduced risk? How can commercial parties realize a fair return on investment?
We invite you to join us for this half day event.
This will be a hybrid event; it's open to the public and media and it will be recorded. Guests are welcome to join us in-person at 1957 E ST NW or online via Zoom. Please register for more information on accessing the event.
---
Event Agenda
10:00 Welcome: Scott Pace, Space Policy Institute
10:10 Keynote: Jim Bridenstine, former NASA Administrator
10:30 Learning from Past Public Private Collaboration Efforts - Successes and Failures
Moderator: Henry Hertzfeld, Space Policy Institute
Patricia Cooper, President & Founder Constellation Advisory, LLC
Brian D. Wessel, Attorney-Advisor, NASA Office of the General Counsel
Moon Kim, NASA HQ - Agency Investment Analysis
Diane Howard, White House - National Space Council
11:30 Lunch provided
12:10 Future Strategies for Public Private Collaboration – Navigating Uncertainty and Risk
Moderator: Karen Jones, The Center for Space Policy and Strategy
Tom Gillespie, Managing Partner, In-Q-Tel
Chris Kunstadter, Global Head of Space, Axa – XL
Jen Ross, SSC COMSO
Kevin Pomfret, Attorney at Williams Mullen
1:10 Wrap Up: Jamie Morin, Executive Director, Center for Space Policy and Strategy