Angie Bukley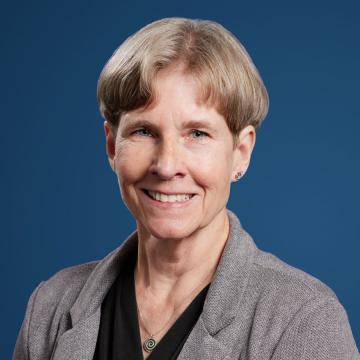 Role
Technical Fellow, Center for Space Policy and Strategy
Dr. Angelia P. (Angie) Bukley is a technical fellow serving in the Center for Space Policy and Strategy, Defense Systems Group, at The Aerospace Corporation. In this role, she performs research and publishes in the areas of human exploration, society, and the future; science and technology; and national policy and international relations. She is an instructor for Aerospace University, which provides internal technical training for Aerospace employees. With more than 35 years of professional experience, Bukley's career has spanned a broad range of defense and space systems research, analysis, design, and technical management.
Bukley began her career as a staff engineer at a small consulting firm in Huntsville, Alabama, before joining the NASA Marshall Spaceflight Center as an aerospace engineer, where she worked from 1990 to 1997. She started at Aerospace in 1998 as a systems engineer in the Airborne Laser Program Office. She left Aerospace in 2003 to join the Ohio University Russ College of Engineering as the C. Paul Stocker visiting professor in the School of Electrical Engineering and Computer Science. In 2005, Bukley was named full professor with tenure, later advancing to become associate dean for research and graduate studies. She then accepted a position at the University of Tennessee Space Institute as associate vice president and chief administrator. She joined the International Space University (ISU) in 2009 serving in Strasbourg, France as associate dean and director of the Space Studies Program, going on to become vice president for academics and research in 2011. In 2014, Bukley left academe, returning to Aerospace as a member of the Civil Systems Group. She joined the Center for Space Policy and Strategy in July 2021.
Bukley has more than 100 technical publications to her credit, including 4 books. She actively promotes STEM studies to K-12 students in her home state of Mississippi as well as in Alabama. She also routinely participates in research activities in microgravity, having accumulated more than 10 hours of zero-G, executing experiments in structural dynamics and neurophysiology.
Education
Bukley earned a bachelor's and a master's degree from Mississippi State University and a Ph.D. from the University of Alabama in Huntsville. She is an alumna of the 1993 International Space University Space Studies Program and was awarded an honorary degree from Ohio University in 2021.
Awards and Honors
Bukley has received nearly 30 awards for teaching and technical merit, including the 2003 University of Alabama Huntsville Distinguished Engineering Alumni Academy Award, the Ohio University Martin E. and Ann D. White Teaching Award in 2005, the Russ College IEEE Student-Voted Best Professor in Electrical Engineering and Computer Science in 2007, the International Academy of Astronautics Life Science Book of the Year 2008, and the Ohio University Russ College of Engineering and Technology Academy of Distinguished Graduates 2022.
Affiliations
Bukley is an Associate Fellow of the AIAA and a member of the American Astronautical Society, International Federation for Automatic Control, the International Council on Systems Engineering, and several other professional societies. She serves on advisory boards for two universities, a nonprofit, and a space start-up. She has been an ISU faculty member since 1998 and currently chairs the Committee for Academic Appointment, Review, and Evaluation.